Higashimatsuyama City is a beautiful town blessed with abundant natural beauty. Let's discover the recommended spots for each season in Higashimatsuyama!
Spring
As spring arrives, beautiful flowers bloom in full splendor.
Recommended Spot 1: Kamunuma Park and Shimonuma Park During the cherry blossom season, these parks host illuminations, allowing visitors to enjoy the beauty of nighttime cherry blossoms.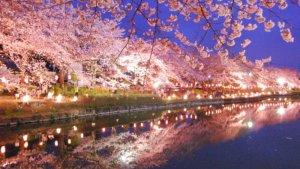 Recommended Spot 2: Yoshimi Town Sakura Tsutsumi Park This park features a cycling course and a cherry blossom tunnel that emerges in spring.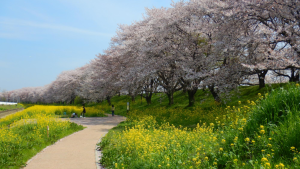 Summer
The lush green mountains and cool streams provide a refreshing escape from the heat.
Recommended Spot 1: Ranzan Gorge Located in Ranzan Town, this area boasts a magnificent landscape with rocky terraces, the Tukigawa River, and surrounding trees.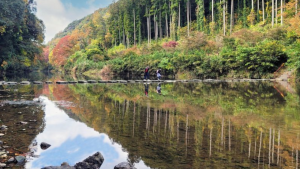 Recommended Spot 2: Yoshimi Hyakuana This site contains a series of horizontal burial caves with 219 confirmed caves. Some of them are inhabited by Hikarigoke (a type of moss). The underground former military factory site remains cool at around 15 degrees Celsius even in the summer.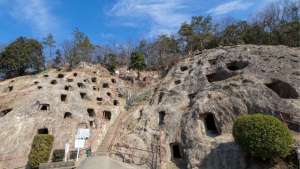 Autumn
Autumn colors adorn Higashimatsuyama City.
Recommended Spot 1: Monomiyama Park Monomiyama and the adjacent Momiji Valley are renowned for their vibrant autumn foliage.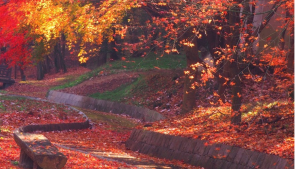 Recommended Spot 2: Iwadono Kannon Shobodera's Giant Ginkgo Tree The large ginkgo tree at Shobodera in Iwadono is the largest ginkgo tree in Saitama Prefecture, standing at 20 meters tall with a trunk circumference of 13.5 meters. The best time to enjoy its autumn colors is usually from late November to early December.
Winter
The cold air creates a serene and beautiful atmosphere.
Recommended Spot 1: National Musashi Hills Forest Park Enjoy the enchanting illuminations and light displays in the central area, resembling a Christmas market. Don't miss the pine tree garden area and the light and sound show.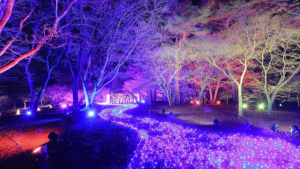 Recommended Spot 2: Higashimatsuyama Botanical Garden This park, known for the city's flower, the "botan" (peony), holds a special event called the "New Year Botan Exhibition," where peonies bloom in the depths of winter, starting from 2021.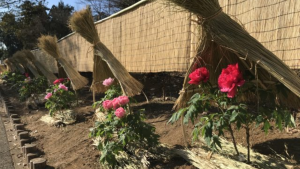 Higashimatsuyama City offers convenient access from the city center and provides numerous opportunities to connect with nature. We invite you to visit and immerse yourself in the natural beauty of Higashimatsuyama City, allowing its splendor to heal your heart.